Check out the fun going on at Family Ever After! I want this blog to be a place where you can get involved and have a chance to win awesome prizes. So read below to find out how YOU can participate and "join the family!"
MONTHLY EVENTS
EVERY WE

DNESDAY

!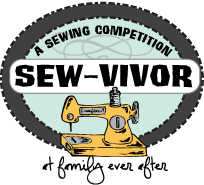 January-April: Sew-vivor, A Sewing Competition
Do you have what it takes to Sew-vive? Enter any sewing project to find out! You could be chosen to show off your skills in this intense and fun sewing competition. In 2012, there were over $900 in prizes!!!
Here's the breakdown of how it all goes down...
Jan- rules, challenges, judges, prizes, and sponsors revealed
Feb- auditions open, giveaways
March- top 10 revealed, giveaways, competition begins
April- competition
May: Picture Me Domestic, Self Portrait Contest
This is a fun way to get creative behind the camera, and showcase yourself, in your element. I always kick off the event with my own self portraits, then hand the contest over to you! Link your pictures, and you could win a fun prize!

June: TBA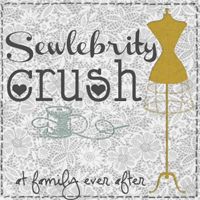 July: Sewlebrity Crush
I invite my all time favorite sewing bloggers (aka- my sewing crushes), to participate, and bring you a new tutorial DAILY! You'll be amazed at the talent! There's a great big giveaway at the end of this series.
2012 Archives
August: Cre8 + 2 = Me and You
As summer draws to an end, it's important to reflect on the time you have spent with your family, children, friends, and neighbors. I created this contest as a way to motivate you (and me) to make sure we took the time we wanted to spend time with our loved ones, making memories while creating something. In my case, its my children. I kick off the series showing you some things that my children and I created. Then its your turn to link your entries, of course with a chance to win prizes!
September: Sew-Along or Quilt-Along
Want to sew with me? Check my blog to see what it is I'm making. I'll have a full step by step picture tutorial so we can create something together. Then you can show off your creating in the link party at the end!
Christmas Advent Sew-Along Archives
Ruffle Top Quilt-Along Archives (still in progress)
October: Blog Bash!
I began my blog in October 2010. Come celebrate with me each Wednesday in October for an awesome giveaway!
1st Bash Archives
November: Think Outside the Blog
more info to come
December: Ugly Christmas Sweater Party
Have you jumped on the Ugly Christmas Sweater Party bandwagon yet? It is so fun! Troy and I host an annual Ugly Sweater Party at our house. I kick off this blog series with tips on hosting your own party, and pictures of our ugly sweaters. Then its your turn to link up your ugliness! We can't wait to see it!

Archives 2011
LINK PARTIES
Once Upon a Weekend Link Party and Features
Begins every Friday night at 7:30pm, eastern time.
Celebration Saturday Link Party
(still mulling this one over...)
Every Saturday night at 7:30pm, eastern time, a themed link party goes up. Feel free to link anything and everything, new and old, that applies to the theme for the month.
January: Winter
February: Valentine's Day
March: St. Patrick's Day
April: Easter + Spring
May: Mother's Day and Father's Day
June: Patriotic
July: Summer
August: Back to School and Teacher Appreciation
September: Fall
October: Halloween
November: Thanksgiving
December: Christmas