*So sorry if you've been stopping by today to check on the results... my darn draft didn't automatically publish like I told it to. grr*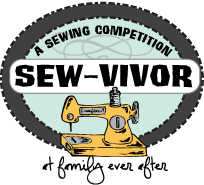 Howdy folks!
I was absolutely blown away by last week's Emerald projects.
It was so fun to see how each contestant interpreted the challenge. We feasted our eyes on a gorgeous emerald sea of very different and unique projects, which was especially fun right after St. Patrick's Day.
The projects were all so outstanding, that behind the scenes, the 10 contestants and I held a "tribal council" meeting, and decided upon a Top 7 lineup, as opposed to a Top 5. It would have been way too hard to say goodbye to half the contestants right away, (and it is still hard to say goodbye to three).
There were a few comments last week, saying that they couldn't vote for contestant #7. That was intentional. Within the post, I mentioned that she was the 7th person to email her project, and earned "immunity" and would be safe from getting voted off. The immunity will not be in effect this next coming week, just fyi.
Here are the Top 7 contestants, who will advance to compete in Challenge 2: Buttons.
We say goodbye to these three FANSTASTIC seamstresses/bloggers/friends.
A big round of applause for a job well done!
These projects were awesome, and I will miss these girls!
Thankfully they won't go home empty-handed after all their hard work. They will receive a gift in the mail soon!
Here is the breakdown from the public voting and judges:
Stay tuned next Wednesday for the Buttons Reveal!
Have you check

ed in with the

Sew-vivor Flickr Group? There were 8 adorable Emerald projects uploaded last week! I have chosen one at random (very technical- I had my daughter close her eyes and point to the computer screen

). The lucky prize winner is:
or post them on Instagram, using this hashtag: #sewvivor (without a hyphen)
I'll be picking another winner to receive a prize! Just have your projects uploaded or hashtagged by the Buttons Results d

ay, April 10.
Sew-vivor is sponsored by: