Do you remember the
self portraits in my kitchen contest
I held on my blog last year? No, you probably don't, because maybe 30 people read my blog back then! haha. I thought it would be a fun little series to bring back, and make it an annual event here on Family Ever After.
What's even more exciting is that I asked 2 of my absolute favorite blogging friends if they'd like to team up with me, so I'd like to welcome
The Letter 4
and
It's Overflowing
as the co-hosts! (Both are really interesting and exciting blogs, so check them out if you haven't yet)! Also, there are awesome prizes on the line, so keep reading for all the details!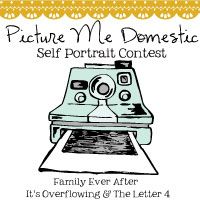 *
Jamie
designed this button, and like I always say, she is one talented and creative girl!!!
PICTURE ME DOMESTIC:
What do you spend your days doing? What do you look like in your home element? We all spend different amounts of time at home, but at some point in the day, we are home. The point of this contest is to challenge yourself to take some fun/creative/interesting pictures of yourself doing what you do best. Or most. Or worst. LOL. We just really want to see you having fun, while attending to your life and daily tasks. So again, your challenge is:
to take a self portrait somewhere at home.
We want to "picture you domestic!"
PRIZES:
1st Place- $75 Plum Box
2nd Place- $50 Plum Box
3rd Place- $25 Plum box
A Plum box is kind of like receiving an exciting grab bag filled with crafty/pretty swag in the mail. Could it be twine, vinyl, jewelry, scarves, kid's accessories? Every box is different, so its a surprise!
Prizes can only be shipped to a U.S. address.
TIMELINE:
"Picture Me Domestic" will occur every Wednesday in May, as follows:
May 9- announce contest, prizes and rules
May 16- link party contest starts
May 23- hosts reveal self portraits, with a link to the contest
May 30- winners announced!
RULES:
1. You can't take yourself too seriously. What you are doing is totally ridiculous and you know it! This is just an opportunity to add a little creativity and excitement to your day.
2. Capture yourself somewhere in your home (inside or outside).
3. Be creative. Use as many different angles, reflections, scenarios as you can. Hopefully your camera has a self timer because they have to be taken by you, starring you.
4. You are not being judged on the quality of your pictures. They aren't required to be technically sound and perfectly edited, although that cannot hurt! We really want to see your creativity.
5. Absolutely NO graphic or inappropriate pictures. Do NOT enter a picture of you in your undies (you must be fully clothed), or doing something questionable! Anything that is not family-friendly (something appropriate for children to see), will be removed! The definition of "inappropriate" is up the the hosts of this contest.
6. This contest is for everyone! You can enter by linking up at the party via your blog, facebook, google+, flickr, and INSTAGRAM!!! More info on how to "link up" coming next week.
7. If you have a blog, please include our cute "Picture Me Domestic" button on your post or sidebar!
8. Please choose a way to follow each host and our sponsor. For convenience, you can click on these links!
If you have any questions, please leave them in the comments, where we will answer them publicly.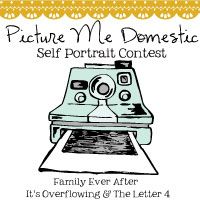 So... are you in? We hope so!!!
Now grab a button, get your cameras ready, and put your thinking caps on! The link party starts next Wednesday. See you then!