Until Christmas, I'll be having several awesome ladies guest post as part of "Homemade in December." Anyone is welcome to link up their Christmas Projects at our Christmas Link Carnival.
This weeks' theme on my blog is Advents, and we welcome Marie from Lil Pink Pocket!
..............................................................................................
Hello friends of Family Ever After! My name is Marie and I blog over at
Lil Pink Pocket
. I'm so excited that Rach has let me be here today! This time of year is my absolute favorite! I love the joy and spirit this season brings! The Christmas season is also a time for traditions and today I'm going to share one that I started with my own little family.
This is our advent calendar and countdown to Christmas, but instead of putting treats or prizes inside we do a special activity together as a family each day. I have a jar full of slips of paper with different activities on them to choose from. Each days activity depends on what we have going on that year or in some cases what the weather is like and some days we do multiple activities (for example on a snow day we build a snowman and make snow angels). At the end of November I look at the calendar and see what we've got going on for the month of December and put those activities in their box first. This year I knew when we had my side of the family Christmas party (which lasts all day long) so that is our activity for that day. It's supposed to be fun...not stressful! Also some of the activities will change as my children get older. This is something that is for everyone and can be adapted to every family.
Here's what you need to make it:
-24 paper mache boxes in an assortment of sizes. The sizes of mine are 2"x2", 2.5"x2.5", 4.5"x3.5", 4.5"x4.5" (you could also re purpose small tins or shoe boxes)
-magnets for each box. I use the small silver circles that are really strong.
-craft paint and brush
-variety of numbers (different shapes and sizes) I used stickers, rub-ons and chipboard
-different embellishments like jewels, paper cutouts and chipboard
-modge podge
-magnet board
Arrange boxes in the order you like. Then choose what color each box will be and paint all boxes and lids. Let them completely dry.
Put numbers on each box and embellish.
Apply a coat of modge podge for protection.
Attach magnets to each box. The larger boxes I used 2.
Fill with your slips of paper.
Here is a list of ideas!
Read about the birth of Christ in the bible.
Go see the live nativity.
Make and decorate gingerbread houses.
Learn to play a holiday song on an instrument.
Take a moonlit walk in the snow.
Invite family or friends to have a sleepover.
Learn to say "I Love You" in 5 languages.
Write 10 things you're thankful for.
Write down the 10 best memories from the past year.
Attend a holiday concert.
Take a ride in a horse-drawn carriage.
Share your favorite holiday memories.
Write down your favorite traditions.
Write down traditions you want to start with your family.
Go see the lights at temple square.
Ready a book by the fire.
Have dinner by candlelight.
Make breakfast food for dinner and eat in your pajamas.
Deliver neighbor and friend Christmas gifts.
Cut out paper snowflakes.
Make candy cane reindeer.
Take a ride to look at holiday lights and decorations.
Thanks again Rach for letting me share my advent calendar! This has been such a fun tradition for our family and I hope you all enjoy it! Come stop by
Lil Pink Pocket
and say hi!
......................................................
This post brought to you by:
Homemade in December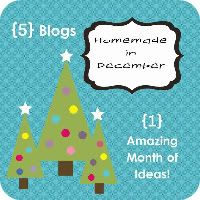 The hosts: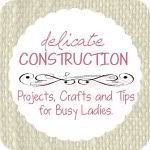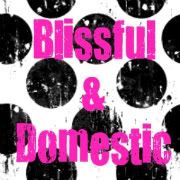 Check out what these ladies have going on today.
More Christmas fun awaits you!